Vastu For Partially completed construction
For the construction companies, an ideal time for the vastu application is when a new building project is still in its very early stages, before the plans are finalized, before it gets final planning permission, and certainly before you start pouring concrete. The earlier you think about the vastu aspects of your residential project, the more benefit you have.
Vastu Shastra is a science relevant to construction of buildings. It is believed that following Vastu Shastra during and after construction work can even convert an inauspicious plot into an auspicious one, thereby making it favourable for human dwelling. Here are a few Vastu tips for house construction. These guidelines should be followed while getting a new house constructed.
Remember to follow Vastu principles at every stage of construction, right from laying the foundation stone, preparing the structure, positioning of the different rooms to doing up the interiors which would include colour palette, furnishing and even displaying up of credentials and show pieces in different sections of the house. Vastu would not only ensure smooth completion of construction work but would also make sure that happiness, peace and harmony exists within the constructed structure which in turn would prove beneficial for its occupants in the long run.
---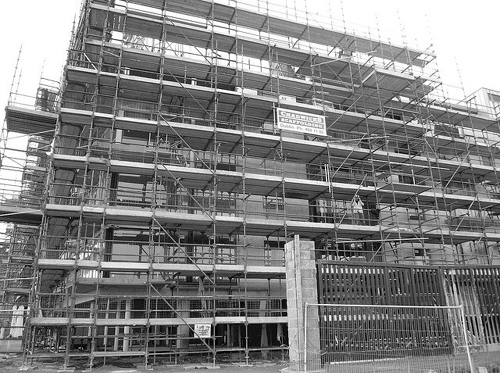 Only new bricks, wood, and materials should be used when building a new house. Materials from an old building should not usually be used to build a new one in case those old materials repeat negative incidents that occurred in the old house.
It is advised that the first construction project for the new house is to dig the well. If water is used from this well for the construction, it is auspicious for the family who will live in the house.
The storage areas should be located in the northwest part of the building, but not in the north or east.
The compound wall should be built before the house is constructed. Construction should begin during an auspicious constellation, and on a favorable day—a Monday, Wednesday, Thursday, or Friday.
The well can also be in the north or east sides of the property. The well should not be in the northwest or southeast corners, as this is inauspicious. It is especially inauspicious if the well is dug in the southwest corner. It is also inauspicious to have a well in the middle of a house.